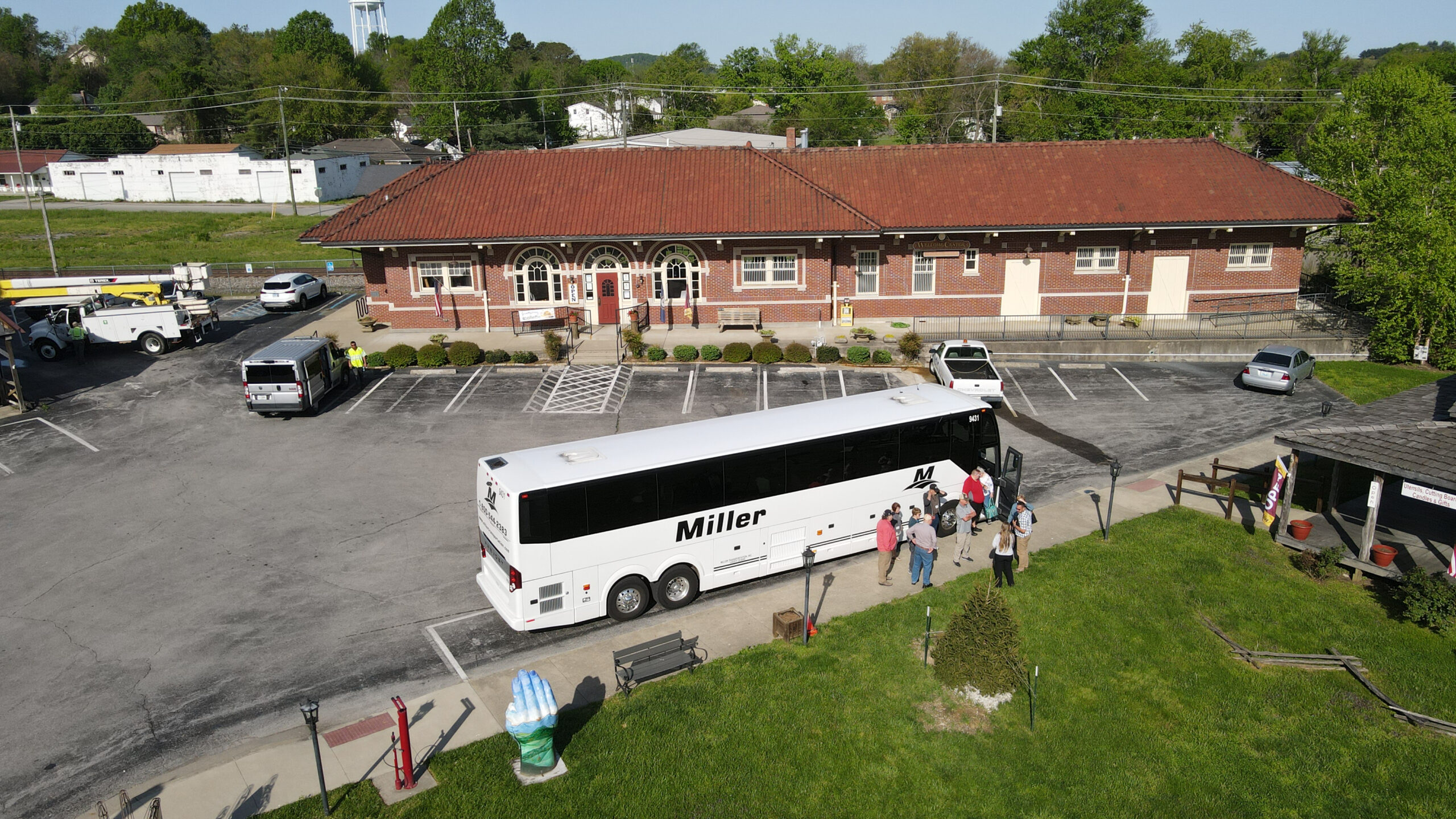 motorcoach group Tours
Please Contact our Group Tour Department with the form below to get your motorcoach group tour started!
Immerse your motorcoach group in an unforgettable artistic journey like no other.
Welcome to a world where creativity thrives and artistic wonders await. Picture yourself strolling through the enchanting streets of Berea, where every corner is infused with the vibrant spirit of artistry. Here, we invite you to experience a tour that transcends the ordinary, an expedition that will leave your group inspired, enlightened, and deeply connected to the beauty of artistic expression.
Join our curated program of interactive classes led by esteemed master artists, where you'll delve into the depths of your creative potential. Engage in hands-on workshops that will ignite your imagination and allow you to craft your own unique masterpieces. Be captivated by the melodic harmonies of local musicians, their melodies resonating with the soul of Berea's artistic community.
But that's not all. Our knowledgeable local guide will unveil the captivating history of Berea College, a groundbreaking institution that defied societal norms long before the Civil War. Discover the remarkable legacy of this interracial, co-ed school that continues to flourish today, fostering a deep appreciation for the value of labor and the pursuit of excellence.
With every step, you'll feel the artistic energy pulsating through the air, igniting your senses and fueling your passion for the arts. Allow the creativity of Berea to awaken your group's inner artist and leave an indelible mark on their hearts.
We invite you to embark on this remarkable journey, where artistry meets adventure, and where the soul finds solace in the beauty of expression. Prepare to be inspired, enlightened, and forever changed by the artistic wonders of Berea.
Book your motorcoach group tour today and let the artistic magic unfold.
Guide Services
​Experience Berea's colorful history. From the beginnings of Berea College, to the thriving art districts we have today, allow us to share Berea with you and your group.
Step-on Guided Tours
Learn more about historic Berea College, and explore Berea's art districts.
Itinerary Planning
Talk with our staff about planning your itinerary.
Entertainment
​Music & Storytelling have been a part of life in Kentucky since the first settlers arrived. Now your guests can immerse themselves in our culture through a variety of pre-scheduled performances.
Donna and Lewis Lamb
Native Kentuckians, this remarkable father-daughter duo have been entertaining folks with traditional Appalachian music for many years. With Lewis on fiddle and Donna on guitar, your feet don't stand a chance of remaining still. In 2008, the Lambs received the highest award given in the Arts in Kentucky.
Boone Tavern Murder Mystery
Enjoy a spectacular 4-course dinner combined with a dramatic production by Bluegrass Mystery Theater.
Thursday Nite Jam Session
Jammin' on the Porch has become a local favorite over the past few years. Anyone is welcome to pick a few and sing a few during this free open acoustic jam session. Listen or feel free to join in! Thursdays from 7:00 – 9:00 PM. No charge.
*More musicians and ensembles may be available. Inquire when booking your tour.*
Itineraries: Discover the Best of Berea!
Looking for the perfect guide to navigate your artistic journey through Berea? Look no further! We have curated two comprehensive itineraries that showcase the very best the city has to offer. These detailed PDFs will provide you with an in-depth overview of the enchanting experiences awaiting you in Berea. Just click on the links below to explore the possibilities:
Berea Motorcoach Profile Sheet:  Are you planning a motorcoach tour to Berea? Our Berea Motorcoach Profile Sheet is your essential guide for a seamless and memorable visit. This comprehensive PDF provides valuable information about our motorcoach-friendly amenities, including parking facilities, accessibility, and accommodations. It's your go-to resource to ensure a smooth and enjoyable experience for your motorcoach group in Berea.
Extended Stay In Berea Itinerary: Looking to spend more time in Berea? Our Extended Stay In Berea Itinerary is designed for those who want to fully immerse themselves in the artistic wonders of our vibrant city. This detailed PDF provides a carefully curated itinerary that highlights the best attractions, hands-on experiences, and cultural gems that Berea has to offer. From captivating art workshops to exploring Berea College's rich history, this itinerary ensures an enriching and unforgettable extended stay in Berea.
Day Trip & Pit Stop Itinerary: Short on time but still want to experience the charm of Berea? Our Day Trip & Pit Stop Itinerary is perfect for those seeking a quick but delightful visit. This concise PDF presents a carefully crafted itinerary, outlining the must-see attractions and experiences that can be enjoyed within a limited timeframe. From visiting artisan shops to sampling local cuisine, this itinerary allows you to make the most of your day trip or pit stop in Berea, ensuring a memorable taste of our artistic haven.
Download these PDFs to access valuable information, insider tips, and carefully planned itineraries that cater to your specific needs. Whether you're staying for an extended period or just passing through, we've got you covered with these helpful resources to make the most of your time in Berea.
Interactive Experiences
​Today's traveler wants the convenience of group travel with the option of individual choices. Our Master Artist Classes offer just that!
Enameling Jewelry Classes: Unleash your inner jewelry designer as you delve into the captivating world of enameling. Learn the intricate art of fusing vibrant colored glass onto metal surfaces, transforming them into stunning wearable works of art. Under the expert guidance of Becky Brown, our experienced instructor, you'll explore various techniques and create one-of-a-kind enamel jewelry pieces to treasure forever. Discover the magic of this ancient craft and let your creativity shine.
Glassblowing Workshops: Step into the mesmerizing realm of glassblowing, where molten glass takes shape in the hands of skilled artisans. Immerse yourself in the heat of the glassblowing studio as you witness the mesmerizing dance between fire and molten glass. Led by Michelle Weston, our talented glassblowing instructor, these hands-on workshops offer a unique opportunity to shape, blow, and mold molten glass into breathtaking creations. Experience the thrill of working with this captivating medium and leave with a truly remarkable glass masterpiece.
Blacksmithing Classes: Feel the raw power of metal as you delve into the ancient art of blacksmithing. Discover the secrets of forging and shaping metal with fire, hammer, and anvil. Under the guidance of Jeff Farmer, our skilled blacksmithing instructor, you'll learn traditional techniques passed down through generations. In these immersive classes, you'll have the opportunity to create functional and artistic metalwork, forging intricate designs and crafting custom tools. Experience the artistry of blacksmithing and leave with newfound skills and appreciation.
Candle Making Classes: Indulge your senses in the art of candle making, where wax and fragrance combine to create beautiful and aromatic creations. Join our candle making classes, where you can unleash your creativity and craft unique candles to light up any space. Led by our expert instructors, these classes can accommodate up to 40 participants at a time, making it perfect for group experiences. Discover the joy of pouring, molding, and designing your own candles, and take home the sweet scent of success.
And More: In addition to these captivating classes, we offer a wide range of other hands-on experiences to suit every artistic inclination. From pottery and ceramics to woodworking and fiber arts, our diverse selection of workshops ensures there's something for everyone. Whether you're a beginner or an experienced artist, these immersive classes will expand your artistic horizons and leave you with newfound skills and inspiration.
Join us in Berea and embark on a creative journey that will ignite your passion and unleash your artistic potential. Explore our array of hands-on experiences and immerse yourself in the captivating world of artistry. Our talented instructors and diverse class offerings guarantee an unforgettable artistic adventure.
How Classes Work…
Guest books trip with you and chooses their class at that time. (Once a class fills up, guests choose from the remaining options.) Berea Tourism does the rest!
TERMS: Reserve classes 60 days out. Final count for each class due 30 days out to allow artists time to prepare materials. Certain block-out dates apply. One payment to Berea Tourism does it all. Additional classes are available. Inquire when booking your tour.
group accommodations
Berea offers a variety of beautiful group friendly accommodations. All hotels above have inside access rooms. For all hotels, including those with outside access rooms, see our Lodging page at VisitBerea.com/Staying
group dining
Experience local cuisine with your entire group.
The below restaurants are capable of serving large motor coach groups in the same seating. Reservations are highly recommended for groups.
For a list of "On Your Own" dining options (including local quick serve restaurants), please see ​VisitBerea.com/Dining.