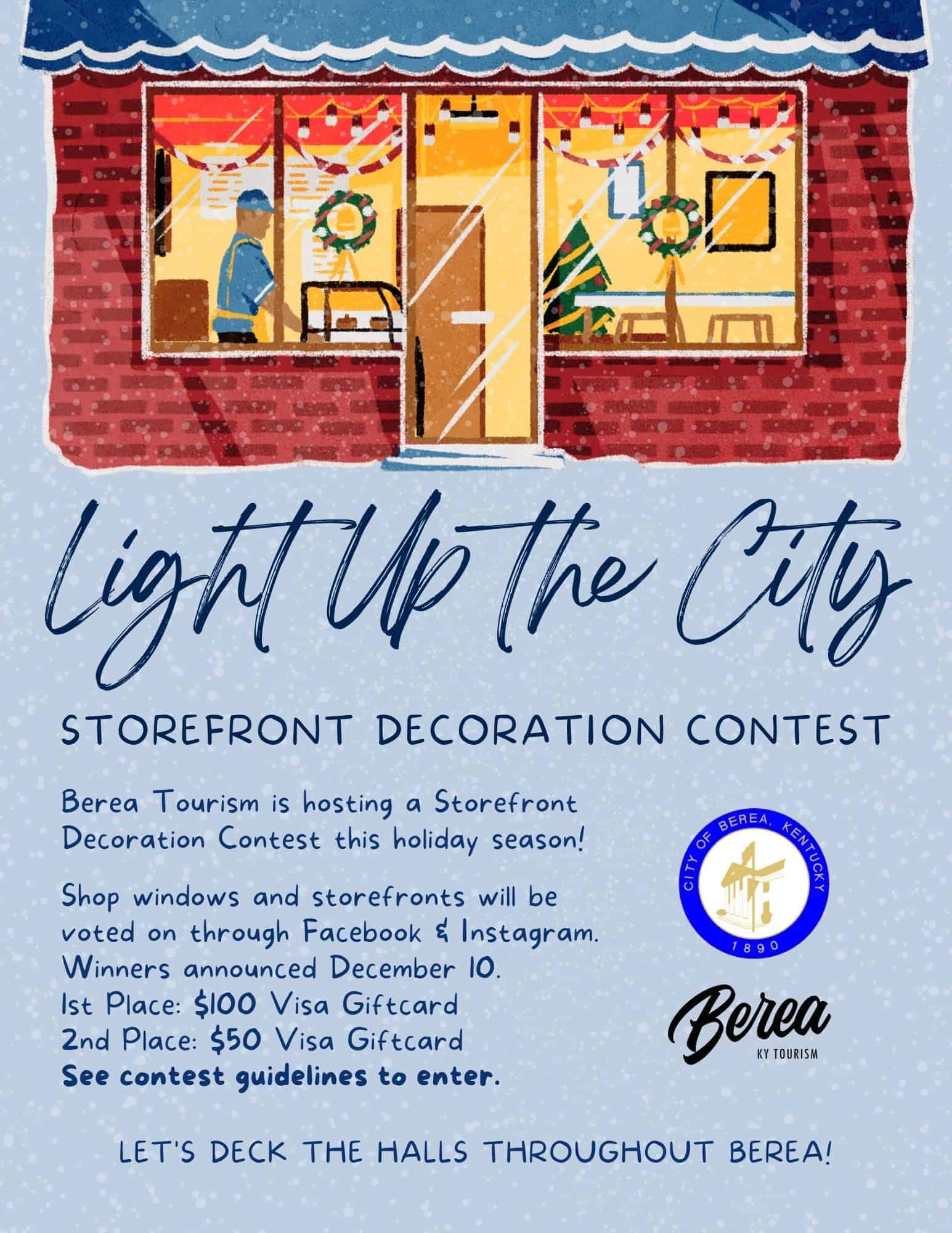 Calling all local businesses! Let's "Light Up the City" this holiday season!
Berea Tourism is excited to bring back the Storefront Decorating Contest for 2021!
Shop windows and storefronts will be voted on through Facebook & Instagram. Winners announced December 10.
1st Place: $100 Visa Giftcard
2nd Place: $50 Visa Giftcard
See contest guidelines to enter.
2021 LIGHT UP THE CITY STOREFRONT DECORATING CONTEST GUIDELINES
1. Business must be located within Berea City Limits.
2. To "enter," email or deliver participation form to Sarah Stillwell, Berea Tourism Media Manager, at [email protected] by 5 PM on Friday, December 3, 2021.
3. Photos will be taken only by Tourism staff, after dark, December 3-5, 2021, to properly show lighting utilized and create an even playing field for all involved.
4. Each business will have one photo posted.
5. Photos will be posted during business hours on Monday, December 6, 2021 on Facebook and Instagram. Likes on each entry's photos will be counted as votes. Likes from Facebook and Instagram will be totaled for each entry.
6. Voting will close 12 PM (noon) on Thursday, December 9, 2021.
7. Winners will be announced on Friday, December 10, 2021 on Facebook and Instagram. First place will receive a $100 Visa gift card. Second place will receive a $50 Visa gift card.
8. Business grants permission to Berea Tourism to use storefront contest photo on social media for contest and promotional purposes.