HomeGrown HideAways, one of Berea's fastest growing AgriTourism destinations, recently celebrated the grand opening of their community kitchen facility. The farm, campground and event facility's latest project, an expansion of their pavilion, is already underway.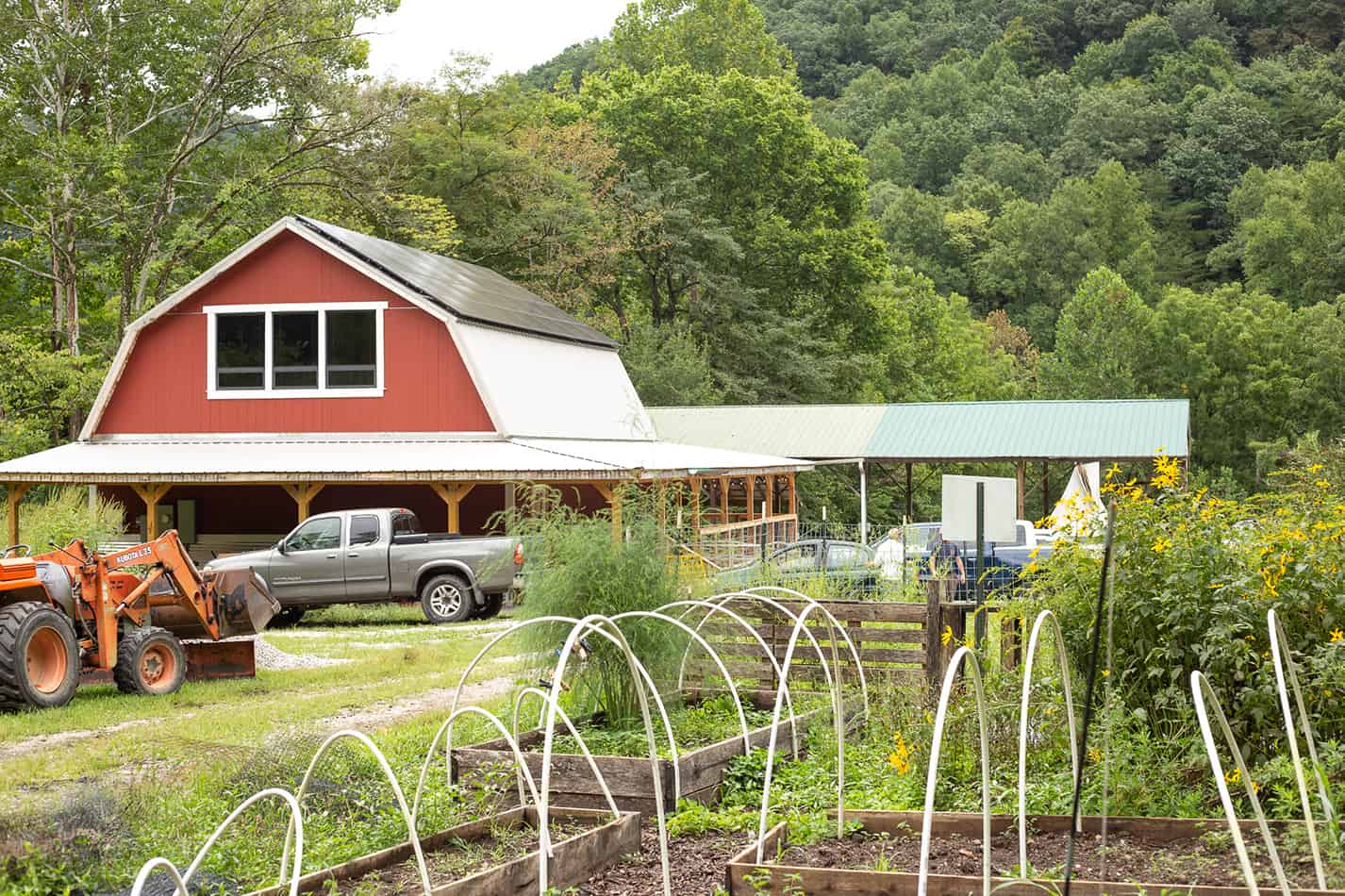 A PLACE TO UNPLUG
What started as one treehouse listing on AirBnB has grown over the years into a variety of beautiful getaway destinations on their hundred-acre holler. Nestled in the foothills of Appalachia, just outside of Berea, lodging options include treehouses, yurts, cabins, a tipi, and retro campers. Campouts, weddings, reunions, fundraisers, retreats, workshops, and parties are welcome at HomeGrown HideAways. Owners Jessa and Nathan Turner live on the farm and manage the grounds.
"You really have to be here and see it to do it justice," said Mayor Bruce Fraley at the kitchen ribbon cutting in September. "It's a great getaway, a good place to come and enjoy yourself."
A short distance from town, the farm offers a haven of no cell service and no wifi, perfect for those moments you want to truly disconnect.
NEW KITCHEN
A dream for many years, the Turners are thrilled to unveil their gorgeous new guest kitchen. This energy-efficient kitchen is ran by electricity produced by a 9.24 kW solar power system on the building's roof.
"In 2017, we secured our first significant amount of seed money for this building, said Jessa. "We won $10,000 from the American Farm Bureau Federation as the Best AgriTourism Start-Up."
HomeGrown HideAways was recognized in the top 10 of the more than 400 entries in the Federation's contest. This was the starting point for additional grant funding and loans secured with help from local groups like Mountain Association for Economic Development, Kentucky Center for Agriculture and Rural Development, Kentucky Horticulture Council, Kentucky State University, and Kentucky Agricultural Development.
The kitchen features 4 ovens, 3 refrigerators, 2 dryers and 3 mini-split systems. Dry goods are available for guests, including many locally sourced foods and fruits from the farm. The refrigerator is also stocked with the farm's chicken and duck eggs, drinks and more.
The building features a lovely wrap-around, covered porch with plenty of picnic tables. Centrally located among the property's lodging options, the kitchen is sure to be a utilized addition for patrons and an attractive feature for events.
ALWAYS GROWING
Just as one project is completed, another begins for the busy Jessa and Nathan. In late August, the couple broke ground on their new pavilion extension project where they're adding approximated 1,500 square feet of covered space to their existing pavilion. This will provide roughly 4,000 square feet of open-air space to complement their new indoor space next door and provide covered area for events.
Solar energy was a longtime dream of the Turners and through work with Appalachia Energy Works, their new kitchen facility is adorned with solar panels that will provide a return on investment within five years.
HomeGrown HideAways has 21 listings on AirBNB and is recognized as "verified" and a "superhost."
LOCATION
HomeGrown HideAways is located at 500 Floyd Branch Road, Berea, KY 40403.
Connect with HomeGrown HideAways on social media or book one of their AirBnBs:
Facebook
Instagram
AirBnB