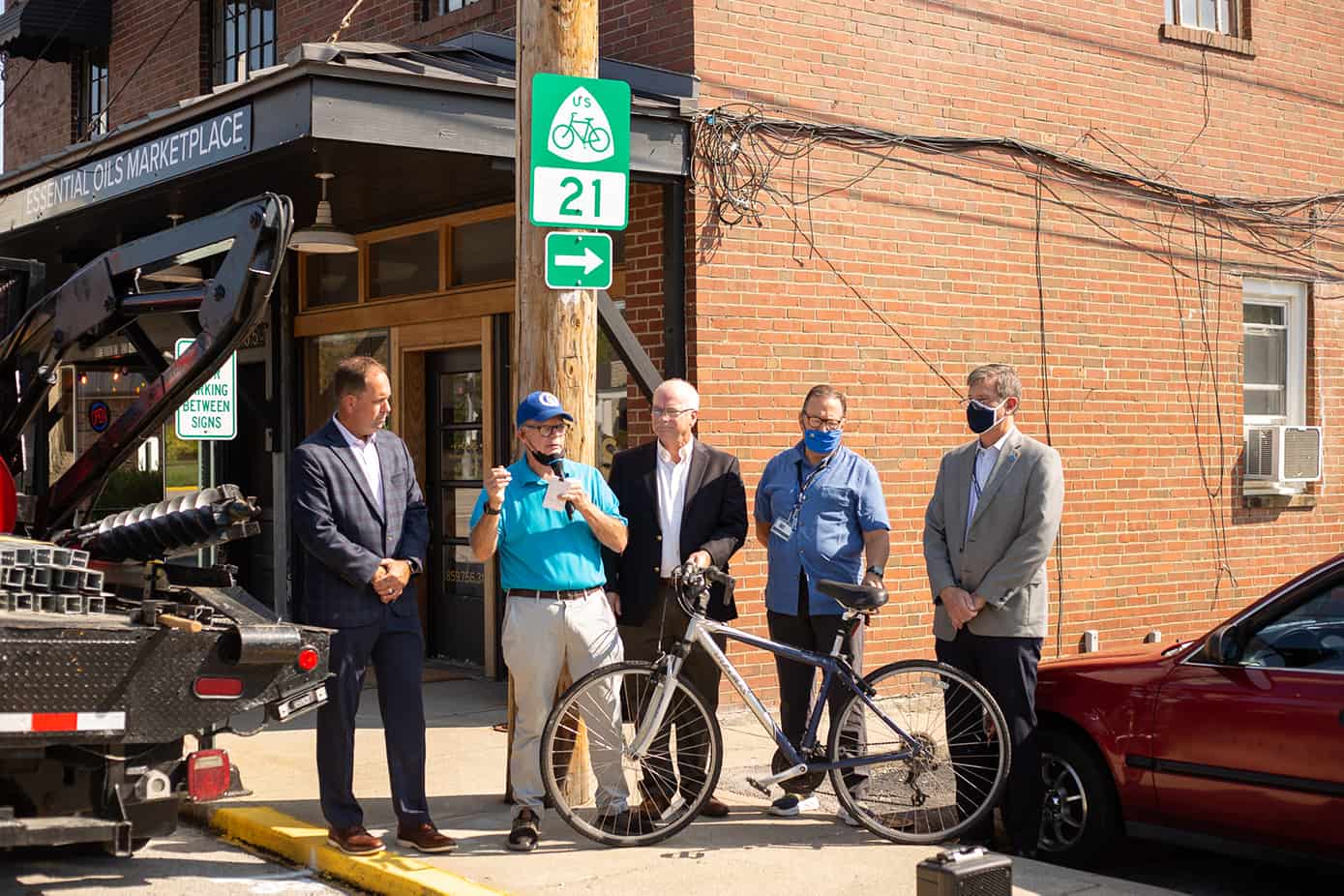 On Thursday, September 16, 2021, local officials gathered to acknowledge new signage placed on Boone Street near Chestnut Street designating US Bike Route 21 (USBR).
Road signs are being placed in 10 Kentucky Counties and 15 communities along USBR 21.
USBR 21, also known as the Daniel Boone Bike Route, begins at the Cumberland Gap and extends 265 miles to the southside of the Ohio River in Maysville, Kentucky. The route follows much of the original "Boone Trace", the historic trail established by Daniel Boon in 1775 marking the first road to land west of the Appalachian Mountains.
Berea is home to the crossroads of America's bike routes, with US Bike Routes 21 and 76 intersecting downtown.
The U.S. Bicycle Route System (USBRS) is a developing national network of officially recognized, numbered and signed bicycle routes. All U.S. Bicycle Routes are certified by the American Association of State Highway and Transportation Officials (AASHTO). These new routes bring the total mileage of the USBRS to 14,000.
The USBRS develops partnerships between transportation agencies, bicycle and trail organizations and volunteers. The Adventure Cycling Association partnered with the Friends of Boone Trace, Inc. to design and implement USBR 21.
"The historic Boone Trace began the 'Westward movement' of our country," said John M. Fox, MD, President, Friends of Boone Trace, Inc., "This directional signage will guide bicycling tourists safely through scenic byways while passing many historical points of interest along the way. Bicycle routes   also attract visitors to explore Kentucky's towns and engage in other outdoor adventures in the Appalachian region that contribute to the local economy."
The trail route was developed over the course of four years by the 501c-3 organization Friends of Boone Trace, Inc., in partnership with Berea College's Entrepreneurship for the Public Good Program. Students researched the route and evaluated it for both safety and unique features.
Access free digital maps for all designated U.S. Bicycle Routes through a partnership with Ride with GPS.
Much of the information in this post is provided by the Commonwealth of Kentucky Transportation Cabinet.