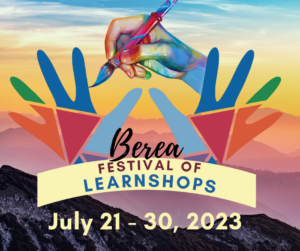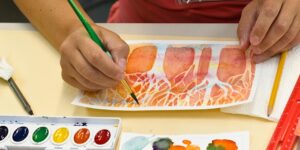 This July, hundreds of people will gather for a celebration of Berea's arts and crafts heritage at the 11th annual Berea KY Tourism's Festival of LearnShops. Originally created to promote Berea's identity as the Folk Arts and Crafts capital of Kentucky, the LearnShop program has grown exponentially; encompassing many forms of art and consistently expanding to reach an ever-growing audience. During the ten-day event, participants will have the opportunity to take part in over eighty different hands-on classes, all taught by experienced local artists and professionals. Mediums range from jewelry making and music to blacksmithing, broom making, and everything in between.
Program Manager, Liz Todd, excitedly shared her thoughts on the program's development and what it means to Berea's creative community on a holistic level."The LearnShops program is in the unique position to embrace the traditional art that quite literally crafted our heritage (ie. Corn Shuck Arts, quilting, barn quilt squares, broom making, loom weaving, etc.), but is also eager to usher in a current perspective. This includes welcoming new artisan instructors and facilitating new classes. A peek of these includes, Appalachian Mountain Music, a new approach to stained glass (full process or kit sessions) Stained Glass – Appalachian Landscape, and Bottles and Blooms, Silk Screen Printing on Unique Materials and Fabric, Hand-built Clay Art: Slab Constructed Mug or Spoon Rest, Envisioning Joy (mixed media/freeform art), expression through movement, outdoor classes, and more." Todd states.
In past years, the Festival of LearnShops has seen participants from all over the United States as well as from outside the country; some coming from as far as South Dakota, Colorado, and even Australia and the UK. Todd makes it clear, though, that while they're coming for the LearnShop classes, it's the overall experience of Berea that keeps them coming back for more. "Berea is a special place, unlike any other, when guests can experience even a small glimmer of our city's charm while attending our Festival of LearnShops, I'm confident they will be back for more. Our students always comment on the nice people they meet, delicious meals, the beauty, and the experiences they unearth that maybe they weren't even aware of before they visited." Todd explains. "Every guest who chooses to respond to our post-event surveys state that they plan to visit Berea in the future and a whopping 85% of responders note that they will return to Berea in less than three months!"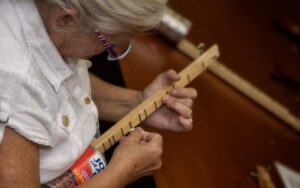 This speaks volumes about the impact that our community has on visitors that we're honored to host. It's great feeling fully confident that wherever our LearnShop students pop in, or explore in Berea, that they will walk away with a positive experience or lasting memory. And that's really what it's all about, showcasing the gem that is our Berea, snuggled at the foothills of Appalachian Mountains. But primarily sharing the gift of community for all. This is done by fostering and facilitating the sometimes-rare opportunity to slow down, gather, and become immersed in the shared love of art.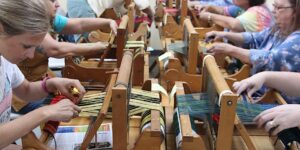 Registration is now open for the 2023 Festival of LearnShops, and some classes are already selling out. Check out the entire catalog of classes and register for your spot today at https://www.eventbrite.com/cc/the-festival-of-learnshops-july-2023-2150389