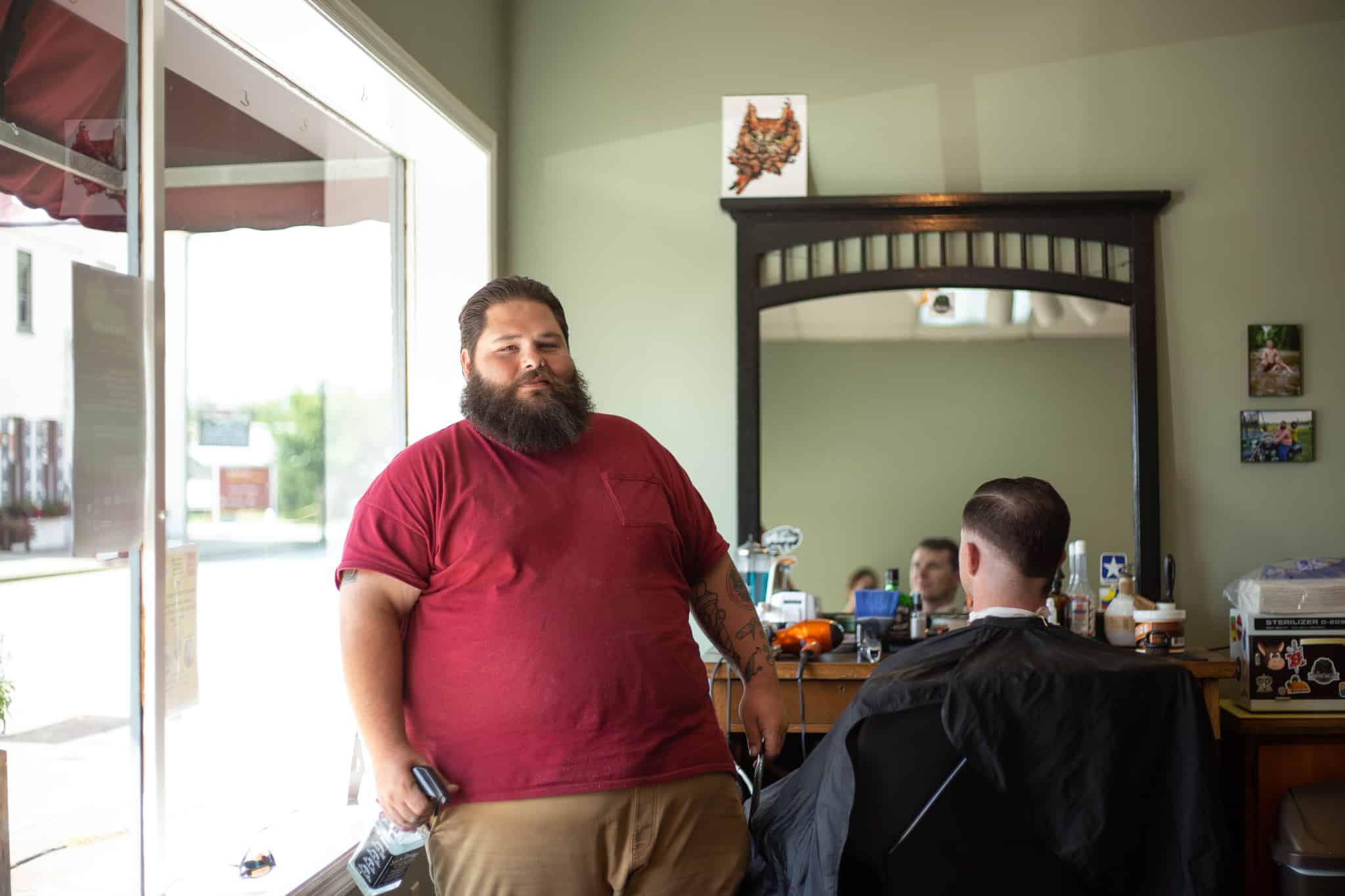 Aaron Hughes, Owner of The Twisted Willow Barber Shop in Old Town Berea.
Aaron Hughes opened The Twisted Willow Barber Shop in Old Town on June 6, 2021 with a dream of offering something unique to Berea and the surrounding areas. With a passion for classic looks and traditional services, Aaron provides an exceptional experience for his clients.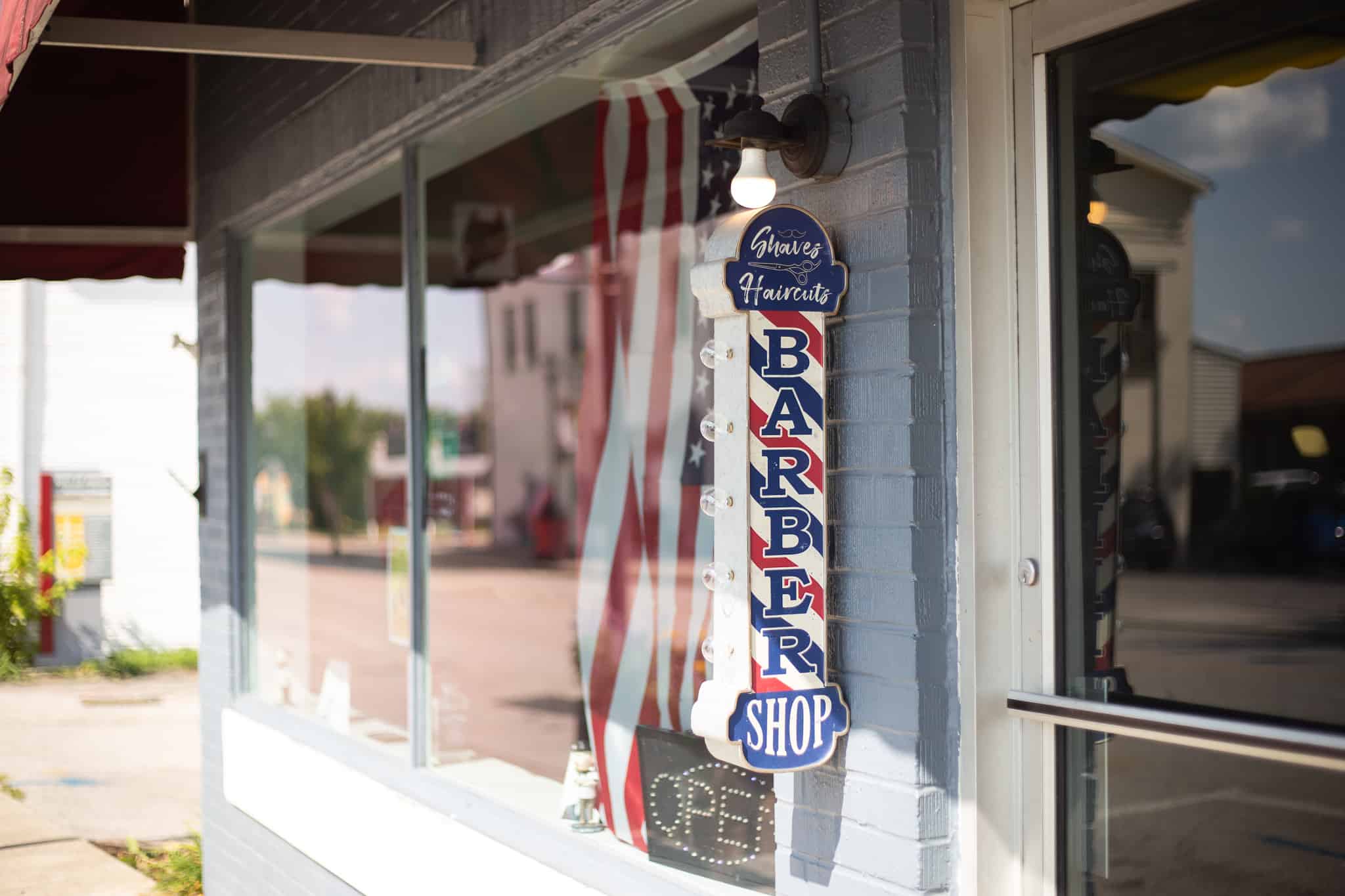 HOW IT STARTED
"Before I got into barbering, I was selling cars. I was working in Lexington and I left before my son got up. I didn't get home until he was already in bed and pretty much from the time he was born that's all I'd ever done," said Aaron.
His young son was a huge motivator for Aaron to make a change. His cousin is a barber and along with his support and the inspiration of his mother who was a cosmetologist, he began barber college.
Between starting The Twisted Willow and cutting hair at a few different shops over the years, Aaron helped his brother start a business and it gave him the push he says he needed to pursue his own shop.
He now has two apprentices working under him and a growing client base. Now his son is able to spend more time with him, "working" at the shop like dad.
"We let him sweep and give him some tips," said Aaron.
BEHIND THE NAME
Aaron says it was important to him that the shop's name not sound cliché. Inspired by the TV series Yellowstone, he says a cowboy's conversation in the show explains "you're either born a willow or an oak, that's just the way it is." That sentiment resonated with Aaron and got his wheels turning. His mother, who passed away in 2016, just a few months before he finished barber college, always loved willow trees. Bouncing ideas around in a group text with his apprentices and friends, The Twisted Willow just fit their story perfectly. Inside the shop, a large mural of a willow tree was painted by his close friend.
COMMUNITY
The Twisted Willow Barber Shop is in its third month of business and Aaron says traffic is picking up as people catch on about what they offer. A sense of community is building around his business as old clients are now making their way to Berea and locals are sharing their experiences with others.
A new haircut, the "KPO Special," is creating a lot of buzz in town. Three Berea police officers started coming in regularly for haircuts, all wanting the same look. They dubbed this style the KPO Special after the first initial of each of their last names.
"We've got people coming in asking for that KPO Special," laughed Aaron. "It was a joke initially and now it's just one of those things."
Located on North Broadway in Old Town, Aaron says you never know who's going to walk through your door.
"People from Michigan, Ohio, all over, have dropped in. Just stopping by," Aaron explained. "I had a mom and son come by who had been in Florida for a week and saw signs on 75 for Old Town Berea and just wanted to check it out. I cut the son's hair and he was tickled to death."
THE FUTURE
"I heard a guy say one time 'If your dreams don't scare you, you're not dreaming big enough,' And that's how I see it," said Aaron. "Most people don't see my vision but it's eventually going to get there."
Aaron loves the style and look of a 1950's barber shop and has plans to continue this theme throughout the shop.
"I want this place to look like 1955," he said.
Not only do his services and overall experience take you back in time with old school cuts and grooming, but he's adding vintage signage and décor.
Aaron's dream is to have 7-8 chairs in the shop. With three currently, he's well on his way.
LOCATION & HOURS
The Twisted Willow Barber Shop is open:
Tuesday-Thursday 10AM-6PM
Friday 10AM-7PM
Saturday 10AM-2PM
To book an appointment, click HERE.
Located at 130 North Broadway, Berea, KY 40403.
Connect with The Twisted Willow Barber Shop on social media:
Facebook
Instagram